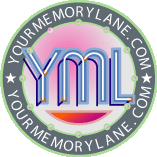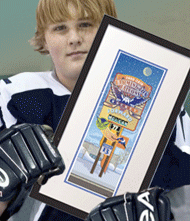 Your Memory Lane

"Sign of the Times" - Personalized Sign Prints
Are you looking for a completely unique way to celebrate an individual or a group of people? A Your Memory Lane Sign art print puts the spotlight on a person, place, or event that the recipient cherishes, and preserves those memories. This custom-made gift is a striking and poignant signpost depiction of meaningful moments, an exceptional visual digest that is as one-of-a-kind as the person who receives it.
Your Memory Lane artists transform the factual information you provide into the bold, colorful, and charming images you see depicted on your personalized Signs art print. Give your friends or loved ones a gift that is every bit as special and unique as they are, one they will treasure for many years to come.
Select the appropriate background design below:
Move your computer's mouse over the image below to see examples of some of our finished signs!
Choose the basic sign shape that you want us to start with:
Click on any of the images below to see close-up examples.
Style A
Style B
Style C
Style D
Style E
Style F
After receiving your order, we will send you your ORDER NUMBER and further instructions for completing Step#4.
Answer and submit any 6 of our 66 questions from our questionnaire below.
In less than a week we'll show you your finished sign proof. Unless there are mistakes to be corrected, your print will be in the mail to you within 12 hours of your approval.
Questionnaire Forms and Instructions
Download our questionnaire form and instructions or print the PDF and follow the format for faxing
To see a copy of the instructions, click here for a PDF file.


Print this document to reference in creating the list in the word processing program of your choice.

To download our type-in Questionnaire Form, click here.


Download and save this convenient type-in document if you have Microsoft Word.
Our Quality

All Memory Lane prints are individually printed on archival paper using the highest quality long-lasting pigments. This process, called Geclee (pronounced "gee-clay"), is the term used for what is currently the most advanced digital fine art printmaking technology. The Geclee printing process provides incredibly detailed prints that last longer (in excess of 120 years) and have a brighter, crisper gamut of color that is far beyond that of lithography.

100% Money-Back Guarantee

If within 30 days you are unsatisfied with your Memory Lane print either do not approve your proof or return it for a full refund. Damaged prints are immediately replaced at our expense. We ask that you package the damaged print in the same way that it arrived. We will email you a return shipper that you can easily print on your computer.

Please understand that we work with the assumption that you are serious about your order and that you are awaiting your Memory Lane print. If you decide to cancel for any reason please let us know so that we redirect our time. Separations and divorce after you have received and paid for your print are not acceptable reasons for reimbursement.

Shipping Information

SHIPPING RATES & METHODS: Prices include shipping (by UPS ground service) within the continental United States. Normally, your order is shipped within 7 business days after you submit your approval on our website. You can expect delivery 2-3 business days for the East Coast and up to 5 business days for the West Coast. We offer delivery by UPS Next Day and 2nd Day Air at an additional charge. Please view our Shipping Info & Rates page for rate information.

ORDERS SHIPPED OUTSIDE OF THE USA: Please view our Shipping Info & Rates page

OUR PACKAGING: All Memory Lane prints are bubble wrapped and shipped in 31 x 19 x 3 plain brown boxes. We do not send a receipt in our package, if you need one we will fax or email it upon request.
Your Memory Lane Sign art prints are $245.00 unframed, and $285.00 framed.
Price includes shipping (Continental U.S.A.)
All prints are double-matted (white/aqua), include mounting board, and measure 20" X 10".
Framed art prints include black wood frame, hanging hardware, and dust cover, and measure 22 " X 12".