About Our Art Prints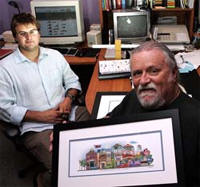 Our quality is uncompromised.
All Memory Lane prints are individually printed on archival paper using the highest quality long lasting pigments. This process called Giclee (pronounced "gee-clay") is the term used for what is currently the most advanced digital fine art printmaking technology.
The Giclee printing process provides incredibly detailed prints that last longer (in excess of 120 years) and have a brighter, crisper gamut of color that is far beyond that of lithography.
Our guarantee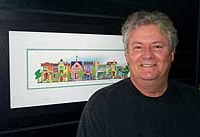 If you are unsatisfied with your Memory Lane print either do not approve your proof or return it for a full refund. Damaged prints are immediately replaced at our expense. We ask that you package the damaged print in the same way that it arrived and call the shipper for a return to us.
Please understand that we work with the assumption that you are serious about your order and that you are awaiting your Memory Lane print. If you decide to cancel for any reason please let us know so that we redirect our time. Separations and divorce after you have received and paid for your print are not acceptable reasons for reimbursement.
Production time
Every Memory Lane print takes many hours to plan and produce. Depending on our workload and holiday orders, our production time varies. We do not accept or consider rush orders.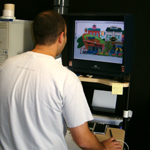 Our giclee printing process. The initial order form starts the process by saving your place in line. We schedule all orders from the date we receive your online order not your "keyword" list. You have at least 3-4 days after we confirm your order to gather, prepare, and submit your "keyword" information. If we are ready to start your order and the keyword information is missing, we will notify you once then skip to the next order if we do not hear back from you immediately.
We cannot absolutely guarantee a delivery unless your order is placed 21 days or more before your due date. We are committed to making every Memory Lane print the best it can be and do not cut corners in our artistic process. Although unforeseen complications rarely happen, we will do the best that we can to meet your deadline, and will expect your understanding in the event that we are unable to do so.
Shipping Information
SHIPPING RATES & METHODS: For shipinents by UPS Ground Service within the Continental US, our shipping rate is $15. Your order is shipped within 7 business days after you submit your approval form. After shipping, you can expect delivery 2-3 business days for the East Coast and up to 5 business days for the West Coast. Expedited shipping methods are available. Please visit our Shipping Rates & Info page for more information.
ORDERS SHIPPED OUTSIDE OF THE CONTINENTAL USA: Please visit our Shipping Rates & Info page for rate information.
OUR PACKAGING: All Memory Lane prints are bubble wrapped and shipped in 31 x 19 x 3 plain brown boxes.