Unique Wedding Anniversary Gift art prints
These gifts for wedding anniversaries are available in 2, 3, 5, and 8-Building formats
Perfect as a first wedding anniversary gift or any anniversary year.
Take a stroll down Your Memory Lane! There's the place where you met, there's Bandit, your first family dog, and look, it's your first car... a lime green Pacer. Your Memory Lane is a highly personalized, high-quality art print that commemorates the recipients' memories of yesterday, joys of today, and dreams of tomorrow... this all-occasion gift is as one-of-a-kind as the couple who receives it.
We offer an optional white-over-gold (50th anniversary) mat, or a white-over-silver (25th anniversary) mat at no extra cost. Call Cully McLean at 770-745-7225 for more details.
Click here for pricing and ordering details on these unique anniversary gifts.
Click the numbers or play button above to view samples of the over 9,000 prints that we have created. You'll see actual submitted "Info List" entries and how we transformed them into the colorful and creative graphics that you see displayed along the street.
Take a look at the wedding anniversary gifts we've created for others and imagine what we can do for you!

5 Building (anniversary) A submarine on the street? Why not... it's about memories, not realities! If you are interested in seeing more military streets please click on the tab in the top menu "View All Art Prints" and select "Military retirement".


Imagine the look on their face when they realize that they are looking at their life, the moments and memories that until now, were almost forgotten.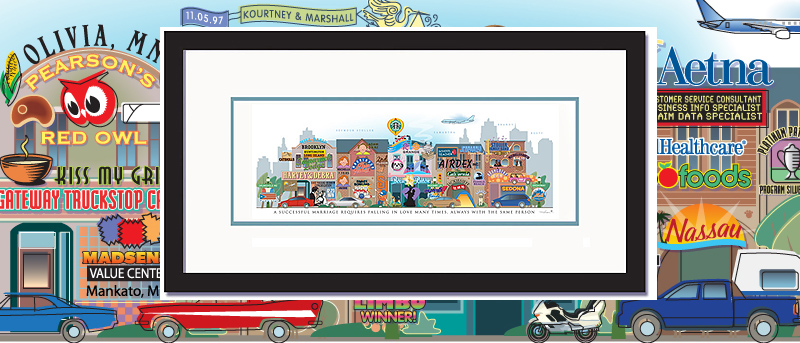 Typical 5 building street

8-Building (50th anniversary)

Okay, once you've decided that we are going to be your gift, you'll need to choose between our 5 and our 8 building street. The slide show below will take you through the process... if you need help, I'm just a phone call away. Call Cully McLean at 770-745-7225.
CLICK TABS BELOW TO VIEW PRICING, PRODUCT DETAILS, AND TO ORDER
Choose by budget, style, or by the amount of information you need to symbolize.
To view a short video on how to select the best street size for your occasion, CLICK HERE
You can preview your art print in as early as 14 business days.
If checkout and approval of proof are processed after 4 p.m. EST order will be shipped the following day.
Need it sooner? Last-minute shopper? Click here to learn about our expedited service.
All of our personalized gifts come with personal service!
We are here and look forward to helping you through the process. Have questions, comments, concerns? Need inspiration or just feeling uncomfortable with computers?
Contact Cully McLean 770-745-7225 (9am - 5pm EST)
Our Quality

All Memory Lane prints are individually printed on archival paper using the highest quality long-lasting pigments. This process, called Geclee (pronounced "gee-clay"), is the term used for what is currently the most advanced digital fine art printmaking technology. The Geclee printing process provides incredibly detailed prints that last longer (in excess of 120 years) and have a brighter, crisper gamut of color that is far beyond that of lithography.

100% Money-Back Guarantee

If within 30 days you are unsatisfied with your Memory Lane print either do not approve your proof or return it for a full refund. Damaged prints are immediately replaced at our expense. We ask that you package the damaged print in the same way that it arrived. We will email you a return shipper that you can easily print on your computer.

Please understand that we work with the assumption that you are serious about your order and that you are awaiting your Memory Lane print. If you decide to cancel for any reason please let us know so that we redirect our time. Separations and divorce after you have received and paid for your print are not acceptable reasons for reimbursement.

Shipping Information

SHIPPING RATES & METHODS: Prices include shipping (by UPS ground service) within the continental United States. Normally, your order is shipped within 7 business days after you submit your approval on our website. You can expect delivery 2-3 business days for the East Coast and up to 5 business days for the West Coast. We offer delivery by UPS Next Day and 2nd Day Air at an additional charge. Please view our Shipping Info & Rates page for rate information.

ORDERS SHIPPED OUTSIDE OF THE USA: Please view our Shipping Info & Rates page

OUR PACKAGING: All Memory Lane prints are bubble wrapped and shipped in 31 x 19 x 3 plain brown boxes. We do not send a receipt in our package, if you need one we will fax or email it upon request.