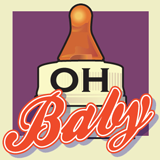 "Oh, Baby" - Personalized Baby Art Prints
Looking for a very special and unique gift?  One that's sure to become a true keepsake?  Our baby art prints are personalized with newborn's name, birthdate and other information making it truly personal and special!  This one-of-a-kind art print is the perfect choice for decorating the baby's room or as a gift from family or friends to welcome the new arrival.
As with all of our prints, we use museum quality inks and papers with 99 year fade resistance.
IT'S EASY!  Just answer a few basic questions about the baby, select one of the two frame colors we offer, and submit your order... we'll create your art print and ship it to you within 10 business days... ground UPS shipping in the continental U.S. is included!  
Baby Girls' Art Prints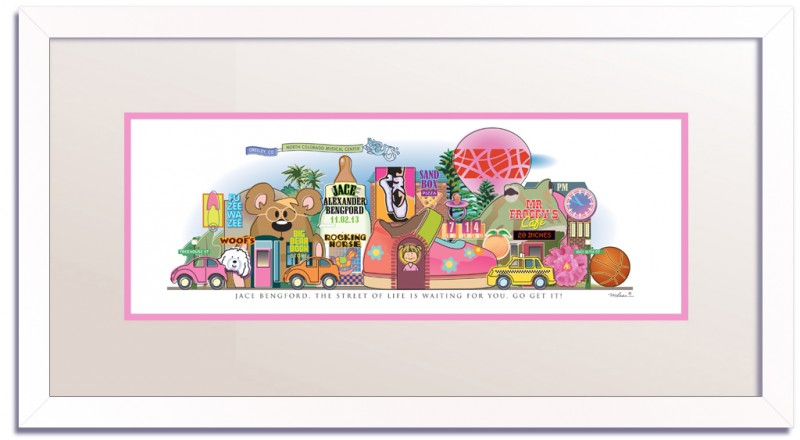 Example of girls' art print personalized with baby's birth details and custom street signs. Girls' prints feature a pink inner mat.  Choose white or natural frame.
Baby Boys' Art Prints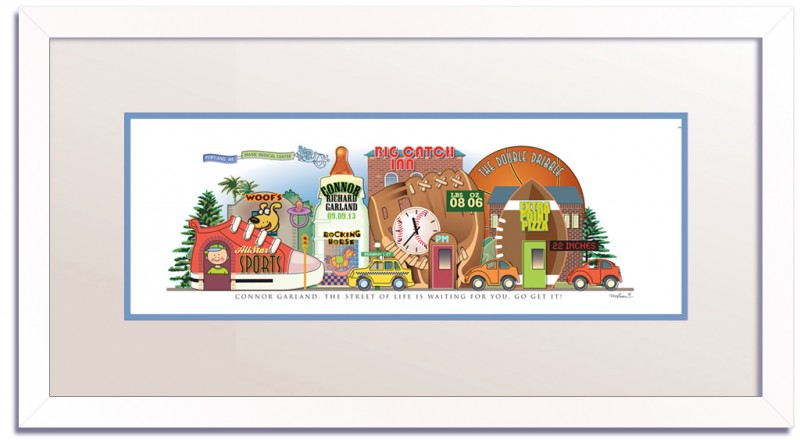 Example of boys' art print personalized with baby's birth details and custom street signs. Boys' prints feature a blue inner mat.  Choose white or natural frame.
Frame Color Options

Choose from a white frame shown in the above framed print examples or the natural wood frame, sample shown here.
Your Memory Lane "Oh, Baby" framed art prints: $165.00.
PRINT SIZE (including frame): 10" x 20"
Price includes shipping (Continental U.S.A.)
All prints are double-matted, include mounting board, frame, plexiglass, and hanging hardware.
Your choice of white or natural wood frame.
Our Quality

All Memory Lane prints are individually printed on archival paper using the highest quality long-lasting pigments. This process, called Geclee (pronounced "gee-clay"), is the term used for what is currently the most advanced digital fine art printmaking technology. The Geclee printing process provides incredibly detailed prints that last longer (in excess of 120 years) and have a brighter, crisper gamut of color that is far beyond that of lithography.

100% Money-Back Guarantee

If within 30 days you are unsatisfied with your Memory Lane print either do not approve your proof or return it for a full refund. Damaged prints are immediately replaced at our expense. We ask that you package the damaged print in the same way that it arrived. We will email you a return shipper that you can easily print on your computer.

Please understand that we work with the assumption that you are serious about your order and that you are awaiting your Memory Lane print. If you decide to cancel for any reason please let us know so that we redirect our time. Separations and divorce after you have received and paid for your print are not acceptable reasons for reimbursement.

Shipping Information

SHIPPING RATES & METHODS: Prices include shipping (by UPS ground service) within the continental United States. Normally, your order is shipped within 7 business days after you submit your approval on our website. You can expect delivery 2-3 business days for the East Coast and up to 5 business days for the West Coast. We offer delivery by UPS Next Day and 2nd Day Air at an additional charge. Please view our Shipping Info & Rates page for rate information.

ORDERS SHIPPED OUTSIDE OF THE USA: Please view our Shipping Info & Rates page

OUR PACKAGING: All Memory Lane prints are bubble wrapped and shipped in 31 x 19 x 3 plain brown boxes. We do not send a receipt in our package, if you need one we will fax or email it upon request.