CLICK HERE to view a short "Info List" video on creating your own custom gift.
To download instructions and sample questions CLICK HERE.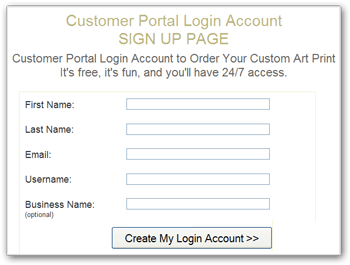 What is the "Information List"?
The Information List (Info List) is the information you supply that we will use to create your custom art print. It is only used when ordering the following art prints:
1) 2, 3, 5, or 8-Building Street
2) 25th or 50th Anniversary Streets
All other art prints can be ordered on their individual pages.
To begin, you will create a free, no-obligation account in our Customer Portal. With a portal account, you will be able to create an Info List for your custom art print. You'll have 24/7 access to the portal and can prepare the Info List form working privately, at your own pace.
What information is needed?
You'll answer a few questions, type a sentence or two describing each of the main "moments and memories", tell us about the vehicles to be parked on the street, list things that you would like in the sky, name a few street signs and dedicate the art with a personalized line of type.
TIP: Slowly move your computer mouse over the image below to see actual "moments and memories" incorporated into the art.

When your Info List is complete you will submit it to us through the portal and place your order. Pre-payment is not necessary. We will send an email confirmation of your order and let you know the date you will be able to return to the Customer Portal to view your preview print.
Everything relating to your order will happen inside the Customer Portal, from preparing the Info List, to approving the print, and supplying shipping details.

Introductory material
Here's your chance to explain anything that you think needs special attention, such as wanting mountains, palm trees, or an oil refinery in the background, or that recipient hates the color blue. Tell us about anything that you think will help us do a better job.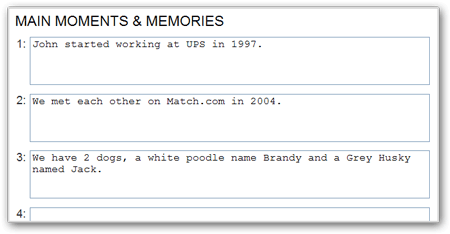 Main "Moments or Memories"
These are the moments and memories that will be transformed into the symbols, icons and graphics that will be displayed on between the buildings on the street. We work from left to right, so if you want your street in chronological order you must prepare it that way.
You must describe each moment or memory separately, do not combine events. Remember, we are creating ONE symbol or graphic image for each moment that you describe. If there is any question about this, please view our video above that explains our rule of one moment or memory = one symbol.
To download instructions and sample questions CLICK HERE.
Click the numbers or play button above to view samples of the over 9,000 prints that we have created. You'll see actual submitted "Info List" entries and how we transformed them into the colorful and creative graphics that you see displayed along the street.
How much of a description do you need for "moment and memory"?
A your description should be brief, to the point and typically 50 words or less. Be sure that you include all of the important details, such as colors, dates, times, names, etc. There are plenty examples below that will help you. Remember, like a charm bracelet, we create symbols or reminders. Describe each event as a separate item and do not combine events.
You can upload logos as JPEG'S, GIF'S inside the Customer Portal
The only reference materials we need would be logos for a small, private company or a local hang-out. We have and can locate national logos for hotels, restaurants, sports teams, major companies, and airlines. Photos are not necessary, as this is an art print. You can upload logos through the Info Form inside the Customer Portal.
How do I decide which street to order. . . the 3, 5 or 8-Building?
Each building on a Street print displays up to 5 symbols before becoming crowded. Make a quick list of the main moments that you want displayed, now divide it by 5... the number closest to 3, 5 or 8 is the street you should be ordering. Of course, you can trim your list of moments to accommodate your budget.
3

-Building Street Displays

5

-Building Street Displays

8

-Building Street Displays
14 Memories and Moments,
3 street signs, 4+ vehicles.
24 Memories and Moments,
4 street signs, 5 vehicles.
38 Memories and Moments,
5 street signs, 6 vehicles.
Info List examples of "Moments and Memories"
Remember... keep it simple, to the point, and give us the important details, such as colors, dates, names, and places.
"We met in February of 2002 through a dating service called Match.com".

Short and to the point, this is really all of the information we need to know.

"Our first date was in March 2003. We dined at Continental Bistro in Atlantic City. It was a small local restaurant; I don't think it had a logo."

If you do not have a logo to represent a keyword, but know where we can find it on the Web, just give us the address. If there isn't a logo, we will configure type to make a sign, as we did here.

"We were married January 1, 2004 at Turtle Island, Fiji, on Shell Beach".

We know that Shell Beach is very famous for turtles, so we created the turtle graphic.

"Our wedding song was 'Just the Way You Are' by Billy Joel."

When you can't remember anything else, a favorite song, saying, or a nickname can be the perfect solution.

"Clark is a Neurosurgeon and his wife, Crystal, collects Barbie Dolls."

This is a good example of specific information. From this sentence we created "Brain Power" and the truck graphic.

"During Jan and Feb 2004 we learned to snowboard. Took lessons at Snowbird Ski Resort in Utah."

Graphics we design go into our library for future use. We designed this snowboarder for this couple's snowboarding "moment".

"We really miss our golden retriever, Can you do something appropriate?"

Yes. And we can also recognize friends and family members who have passed on.

"My dad loves the New York Yankees can you put their logo somewhere?"

We have thousands of logos on file. If we don't have the one you need, you can email it to us. See instructions below.
Browse through our portfolio of general samples and corporate gifts
To download instructions and sample questions CLICK HERE.