Your Memory Lane "Building Street" art print samples :
Available in 3, 5, and 8-Building formats
Scroll down this page to see a random sampling of streets for all occasions, we've mixed them up so that you can easily see and compare the differences, versatility, and limits of each size of art print. After you have reviewed these samples you are welcome to go back to the samples menu page to see more samples by size and occasion. For pricing and ordering details click here.
Take a look at what we've done for others and imagine what we can do for you!

This is a typical 8 building 25th Anniversarry street. We include the appropriate 25th silver (shown) or 50th gold inner mat at no extra cost.

Your Memory Lane art prints are custom made for each customer and created by the information that they provide in their "information list". We do not use clip art, each street is totally unique. Above: 5-Building (25th anniversary) This gift from the children shares their most memorable moments and memories as they were growing up.

5 Building (anniversary) A submarine on the street? Why not... it's about memories, not realities! If you are interested in seeing more military streets please click on the tab in the top menu "View All Art Prints" and select "Military retirement".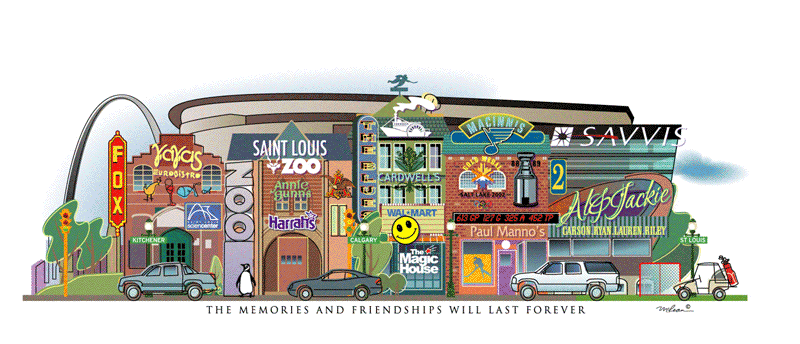 5-Building (farewell / retirement) The Saint Louis Blues (NHL) used our prints as the traditional farewell gift to any players that were traded or retireing. Each print was 40% complete, then 60% personalized for the particular player and family. It showcased the important events and experiences while living in St Louis.

5-Building (wedding gift). As you look through our samples please remember, these are very high quality art prints... 99 year inks, much better color and much sharper than what you can see on your monitor... guaranteed!

8-Building (Board of Directors gift, Long Beach, California)

Load time doesn't allow is to have too many samples on one page... if you want to see more examples of our work please use the link at the top of the page (View All Art Prints), you'll see anniversary, corporate retirement, birthday, graduation... all kinds of examples and categories.

8-Building gift of appreciation. This Detroit "Hockey Doc" generously devotes his free time to youth hockey as the league doctor. He provides free physicals, medical assistance and often takes the teams out for food after the games. This was a gift of appreciation from the parents and players who have quickly become his fans.

8-Building (birthday). This was the 40th birthday gift for Ellen Degeneres from her produces.

8-Building (corporate retirement). Remember, our street prints work for any occasion because you theme them by the kind of information that you tell us, also you create the dedication line that runs under the art.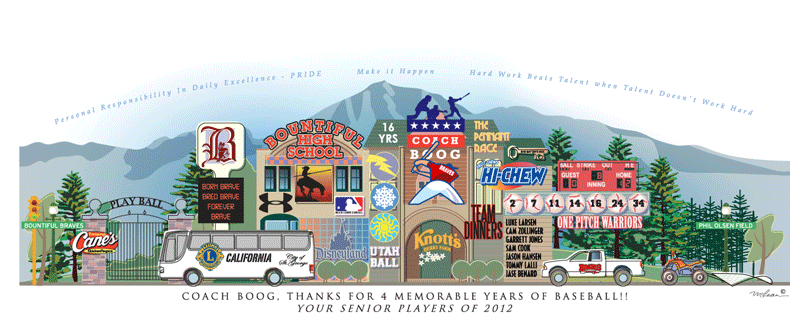 This is a 2 building street, a gift from the baseball team to the coach.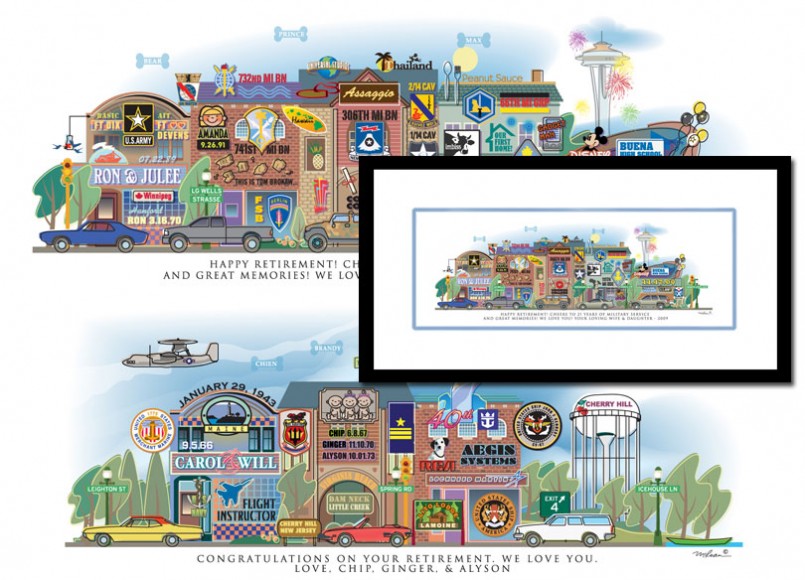 5-Building (military retirement - top) and 3-Building (military retirement - bottom)

"A Stroll Down Your Memory Lane" is an example caption for this Christmas art print. The caption is optional, but will convey more meaning for the image. Example shown is a 5-Building Street. All Christmas prints will include a Christmas tree and wreath on the art.

This is an 8-Building Example. All Christmas prints will include a Christmas tree and wreath on the print. 2-Building and 3-Building street sizes are also available.
CLICK TABS BELOW TO VIEW PRICING, PRODUCT DETAILS, AND TO ORDER
Choose by budget, style, or by the amount of information you need to symbolize.
Orders placed today, with a completed Info List, can be ready to ship in as early as 14 days.
Our Quality

All Memory Lane prints are individually printed on archival paper using the highest quality long-lasting pigments. This process, called Geclee (pronounced "gee-clay"), is the term used for what is currently the most advanced digital fine art printmaking technology. The Geclee printing process provides incredibly detailed prints that last longer (in excess of 120 years) and have a brighter, crisper gamut of color that is far beyond that of lithography.

100% Money-Back Guarantee

If within 30 days you are unsatisfied with your Memory Lane print either do not approve your proof or return it for a full refund. Damaged prints are immediately replaced at our expense. We ask that you package the damaged print in the same way that it arrived. We will email you a return shipper that you can easily print on your computer.

Please understand that we work with the assumption that you are serious about your order and that you are awaiting your Memory Lane print. If you decide to cancel for any reason please let us know so that we redirect our time. Separations and divorce after you have received and paid for your print are not acceptable reasons for reimbursement.

Shipping Information

SHIPPING RATES & METHODS: Prices include shipping (by UPS ground service) within the continental United States. Normally, your order is shipped within 7 business days after you submit your approval on our website. You can expect delivery 2-3 business days for the East Coast and up to 5 business days for the West Coast. We offer delivery by UPS Next Day and 2nd Day Air at an additional charge. Please view our Shipping Info & Rates page for rate information.

ORDERS SHIPPED OUTSIDE OF THE USA: Please view our Shipping Info & Rates page

OUR PACKAGING: All Memory Lane prints are bubble wrapped and shipped in 31 x 19 x 3 plain brown boxes. We do not send a receipt in our package, if you need one we will fax or email it upon request.