Unique Corporate & Executive Gifts

Personalized "gift of memories" for any corporate occcasion
Take a stroll down Your Memory Lane... like the "charms" on a bracelet, everything you see is the symbol of an important milestone, moment, memory, person, place or thing. Your Memory Lane art prints are uniquely personalized for you and your occasion, and are available individually for a retiree or in quantity for groups like the board, committee members and clients.
Cully McLean, and his staff of artists work personally on every art print, transforming your list of personal and corporate information into the colorful graphics, icons and logos that you see interwoven throughout each street. Your Memory Lane is a truly unique and thoughtful gift of appreciation.
After the first print, framed duplicates are available for as little as $150.00 each (framed). Contact Cully McLean at 770-745-7225 for information.
Scroll down this page to see a few of the executive & corporate gifts we've made for others!
We've created corporate gifts for corporations such as Domino's, Georgia Pacific, Coca-Cola USA, Caribbean Cruise Lines, UPS, Time Warner, Disney World, Habitat for Humanity, Long Beach Business Association, and Mission Aviation Fellowship, and many more.

Board of directors gift: The Downtown Long Beach Association used our 8-Building Street to showcases their waterfront area and the many events that make it a thriving tourist and business district. A framed copy of this commemorative print was presented to each of the board members and the executive committee members. This print was produced in two versions, with and without the individual board members' names on it.

Client gift: Time Warner presented this "The NBA on TNT" art print to special guests that attended the NBA All-Star Game February 2008 in New Orleans. The print chronicles the events and activities that were planned for their guests, including the hotel, various venues, entertainment, and images unique to New Orleans. One print was prominently displayed in the hotel lobby and stated that a framed print would be waiting for each guest them when they returned home.


All corporate Memory Lane art prints are museum quality and available framed and unframed in any size and quantity. Prices start at $275.00 for a single personalized print. Duplicate prints are available and priced from $110.00 to $150.00 each.

Carnival Cruise Lines commemorated their new eastern Caribbean cruise with this 8 building street. We displayed all of the ports of call and on board amenities. Haven't seen enough? Click on the "View More Samples" button below for more corporate examples.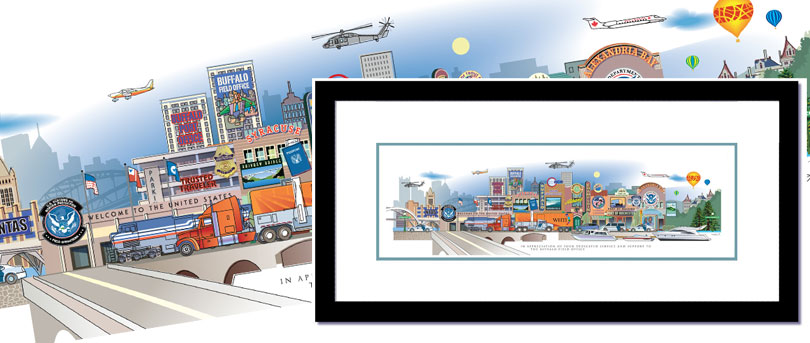 US Customs and Border Protection (Buffalo Field Office) uses a custom Memory Lane framed print as their employee retirement gift. This print pays tribute to all aspects of their duties and responsibilities. The final version (below) includes a die-cut mat set to hold their commemorative medallion.


Above Left : Domino's Pizza celebrated their 50th anniversary with the presentation of 60 personalized art prints to key executives and suppliers. Domino's also printed and passed out a specially modified version to those who attended the 50th celebration event in Chicago. As you can see, they found another unique use as the entrance to the exhibit room at the hotel... BTW, we can print our art at any size without any quality loss. Above Right: Many of our customers order oversized prints to display in their lobby and executive or branch offices (ATO Headquartes lobby).
Orders placed today, with a completed Info List, can be ready to ship in as early as 15 business days.
Need it sooner? Last-minute shopper? Click here to learn about our expedited service.
MORE INFORMATION AND PRICING
Our corporate and executive gifts and gift programs
are specifically tailored for each client.
Please contact us personally to discuss your needs.
Call Cully McLean at 770-745-7225.